It's not the same as Halloween! While Halloween is celebrated Oct. 31, Día de los Muertos is celebrated right after.
After the arrival of the Spanish, this ritual of commemorating the dead was intertwined with two Spanish holidays:
Traditionally, Nov. 1 is when you welcome the souls of children that have passed away, known as Día de los Inocentes (Day of the Innocents) or Día de los Angelitos (Day of the Little Angels). Nov. 2 is when the adult souls arrive.
On these days, altars are made in honor of them. People build them on their loved ones graves, at home or anywhere they find rightful to honor their loved ones. They make ofrendas (offerings) to the dead of their favorite foods, toys (for children), pictures, pan de muertos, sugar skulls and many other things that help guide the spirits of the dead safely to the altars. Marigolds, known as the flowers of the dead, are usually prominent in the altars.
Did you know?
Scholars trace the origins of the modern Mexican holiday to indigenous observances dating back hundreds of years and to an Aztec festival dedicated to the goddess Mictecacihuatl.
See 2 amazing videos that capture the spirit of Dia de los Muertos!
Video 1:
https://youtu.be/jJ5Qo4CubxI
CLEAN VERSION (At the request of teachers): https://youtu.be/LVltJThmgRQ
Video 2:
Día de los Muertos is, after all, the one time of the year you can talk and visit with your dead loves ones — as the adorable niña in this short film learns during her celebration.
Learn its amazing History!
In Mexico, November 1st is All Saints day, a day to honor and respect the innocents, children & infants

.

November 2nd is Dia De Los Muertos, the day to honor deceased adults.
1. What's the difference between Día de los Muertos and Halloween?
Día de los Muertos — also known as "Día de Muertos," or "Day of the Dead" in English — is a holiday with Mexican origins that is celebrated on November 1 – 2.
While some imagery might be close to that of Halloween, there are significant differences between the two. Día de los Muertos is a day to celebrate death — or, more specifically, the deceased — while on Halloween, death is seen as something to be feared. Día de los Muertos has both indigenous origins from the Aztec festival for Mictecacihuatl, The Lady of The Dead, and Catholic origins from the Spanish conquistadors' All Saints and All Souls Day.
2. It originated in Mexico and Central America.
Día de los Muertos originated in ancient Mesoamerica (Mexico and northern Central America) where indigenous groups, including Aztec, Maya and Toltec, had specific times when they commemorated their loved ones who had passed away. Certain months were dedicated to remembering the departed, based on whether the deceased was an adult or a child.
After the arrival of the Spanish, this ritual of commemorating the dead was intertwined with two Spanish holidays: All Saints Day (Nov. 1) and All Soul's Day (Nov. 2). Día de los Muertos is often celebrated on Nov. 1 as a day to remember children who have passed away, and on Nov. 2 to honor adults.
Today, Día de los Muertos is celebrated mostly in Mexico and some parts of Central and South America. Recently it has become increasingly popular among Latino communities abroad, including in the United States.
3. It's a celebration of life, not death.
Ancient Mesoamericans believed that death was part of the journey of life. Rather than death ending life, they believed that new life came from death. This cycle is often associated with the cyclical nature of agriculture, whereby crops grow from the ground where the last crop lies buried.
Día de los Muertos is an opportunity to remember and celebrate the lives of departed loved ones. Like any other celebration, Día de los Muertos is filled with music and dancing. Some popular dances include La Danza de los Viejitos—the dance of the little old men—in which boys and young men dress as old men, walk around crouched over then suddenly jump up in an energetic dance. Another dance is La Danza de los Tecuanes–the dance of the jaguars–that depicts farm workers hunting a jaguar.
4. The ofrenda is a central component.
The ofrenda is often the most recognized symbol of Día de los Muertos. This temporary altar is a way for families to honor their loved ones and provide them what they need on their journey. They place down pictures of the deceased, along with items that belonged to them and objects that serve as a reminder of their lives.
Every ofrenda also includes the four elements: water, wind, earth and fire. Water is left in a pitcher so the spirits can quench their thirst. Papel picado, or traditional paper banners, represent the wind. Earth is represented by food, especially bread. Candles are often left in the form of a cross to represent the cardinal directions, so the spirits can find their way.
5. Flowers, butterflies and skulls are typically used as symbols.
The cempasúchil, a type of marigold flower native to Mexico, is often placed on ofrendas and around graves. With their strong scent and vibrant color the petals are used to make a path that leads the spirits from the cemetery to their families' homes.
Monarch butterflies play a role in Día de los Muertos because they are believed to hold the spirits of the departed. This belief stems from the fact that the first monarchs arrive in Mexico for the winter each fall on Nov. 1, which coincides with Día de los Muertos.
Calaveritas de azucar, or sugar skulls, along with toys, are left on the altars for children who have passed. The skull is used not as morbid symbol but rather as a whimsical reminder of the cyclicality of life, which is why they are brightly decorated.
Learn more about Día de los Muertos click this link to visit the Smithsonian Latino Center's Latino Virtual Museum.
6. How do you celebrate the dead?
Those who celebrate Día de los Muertos will usually put up altars honoring those members of the family who have passed away. They decorate the altars with candles, sugar skulls, marigolds, food, beverages and clothes. These offerings, or "ofrendas," are gifts for the dead and are usually a combination of his or her favorite things. Like the holiday itself, the altar also has mixed imagery of both indigenous and Catholic background. The graves of the deceased are also visited and honored with offerings as well as vigils.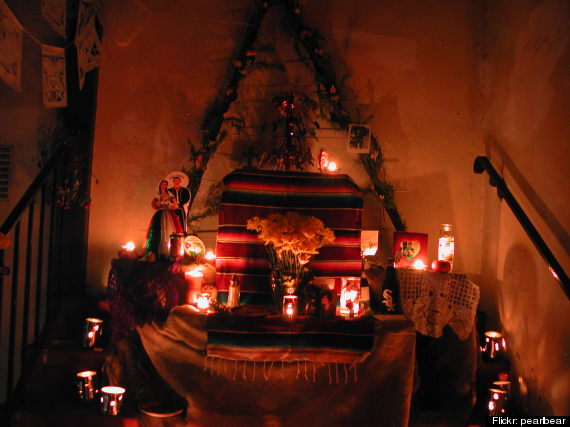 7. Would you have to go to Mexico to see these celebrations?
No, although Día de los Muertos is a Mexican National Holiday it is actually celebrated in other countries as well such as Guatemala, Brazil and Spain. It is also becoming more and more popular in the U.S. due to the large number of Mexican immigrants and Mexican Americans.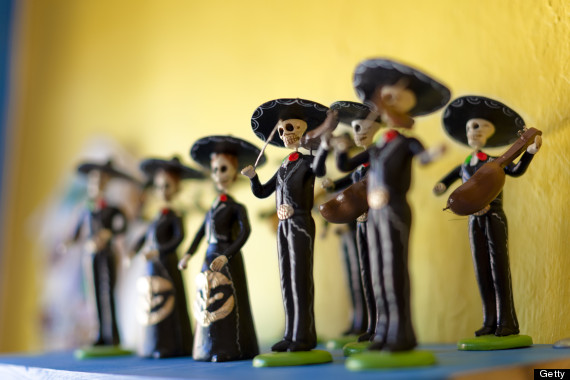 8. What's up with all the skulls?
Skulls are everywhere during Día de los Muertos. The origins trace back to the pre-Hispanic era, when they were kept as trophies and used during rituals.
The most recognized skull on Dia de los Muertos is the Calavera Catrina. The image as we know it today originated with José Guadalupe Posada, a Mexican Artist who depicted a fancy female skeleton as a dig against the Europhile Mexican elite during the Porfirio Díaz dictatorship. It became an iconic image of the Mexican Revolution at the beginning of the twentieth century.
But the actual Catrina is said to have originated thanks to the Aztec tale of Mictecacihuatl, the Lady of the Dead.
More reading!