SAVE MONEY TIP! Stop paying for expensive repairs, from your old junkie, and empower yourself with reliability for around $5,000.
Yes, there are amazing low-priced cars out there.
"Consumer Reports" have put together an amazing list of family cars, suv's, and hatchbacks.
The links below include reliability and owner satisfaction ratings. Plus, most vehicles include a free Carfax report.
How to find these automobiles:
We recommend using Craigslist and Cargurus websites.
We also recommend finding autos with only 1 or 2 owners.
Happy searching!
Small Cars
This generation Civic was a major improvement over earlier versions, featuring a roomier and quieter interior and a better ride. Most versions have a refined and economical 1.8-liter four-cylinder, returning 28 mpg overall with the five-speed automatic and 31 mpg with the slick-shifting manual. ESC was first available on the Civic in 2009.
The Fit has an amazing amount of interior room. The rear seats can be folded low and flat, or the cushion can be flipped up against the backrest, creating a deep, flat floor. While quite slow to accelerate, the Fit feels responsive, with a smooth and willing engine and agile handling that makes it fun to drive. But the ride is choppy and the car is loud. Expect overall fuel economy of 30 to 32 mpg. The 2009 model year offered ESC, which we consider to be a vital safety feature, but only on loaded trims with the navigation system.
Toyota Corolla 2005 to 2009
The practical Corolla delivers decent performance and admirable fuel economy. Expect 29 mpg overall. While ride quality is absorbent and unobtrusive, handling is uninspiring. The cabin offers good access and a decent rear seat, but the driving position is a bit compromised because of a steering wheel that's too far away. Although ESC was first offered in 2005, it and curtain airbags were rare options before 2009. Without curtain airbags, the car scored a Poor in Insurance Institute for Highway Safety crash tests. So if your budget permits, look for a 2009 or later Corolla because these provide much better crash protection.
Toyota Prius 2005 to 2009
The Prius is ideal for anyone purely interested in low running costs and practicality. It gets 44 mpg overall and can drive at low speeds on electric power alone. The ride is firm but compliant enough, although road noise and engine drone are noticeable. Handling is secure. Some controls are complicated, and the interior feels basic. ESC was available starting in 2005, but if your budget permits, focus on a 2007 or later Prius, which comes with standard side curtain airbags.
Hatchbacks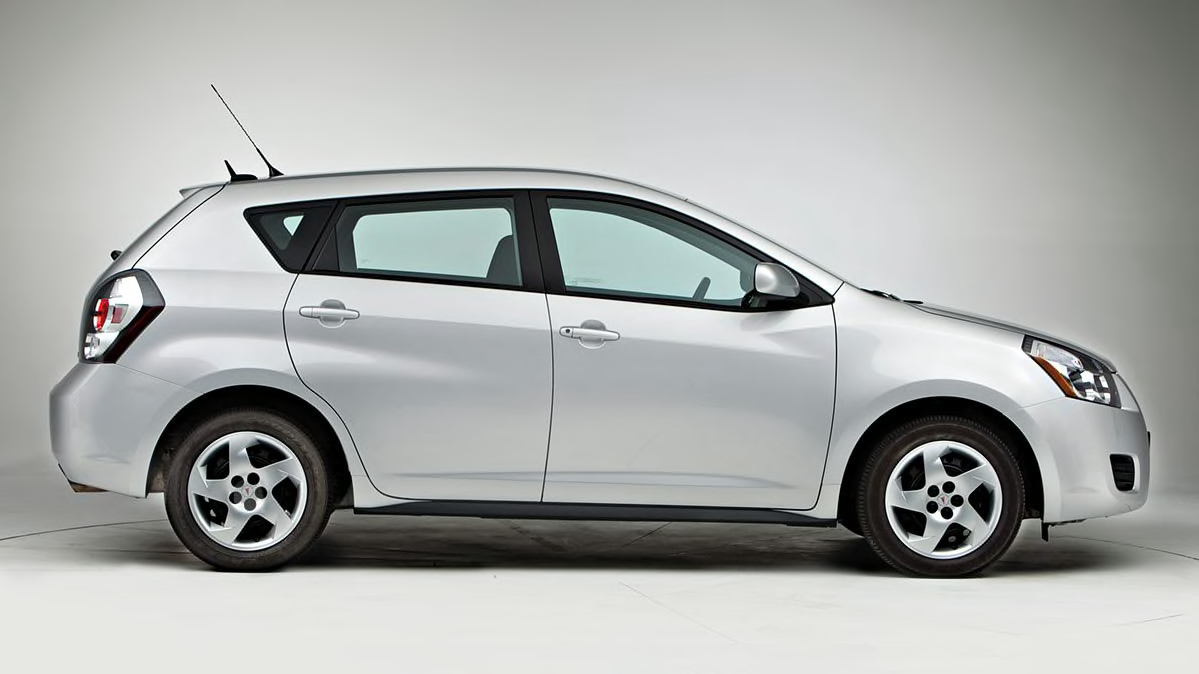 Pontiac Vibe 2005 to 2007, 2009
Overall, the Vibe is a sensible alternative to a small SUV. The Vibe's 1.8-liter four-cylinder drones loudly and performs modestly. GT models use a stronger version of this engine and come only with a six-speed manual. Handling is fairly nimble, and the ride is compliant if a little jittery. Access is very easy and the rear seat is quite roomy, but the driving position is only so-so. The optional all-wheel-drive system works well but hurts acceleration and fuel economy. Folding the rear seats creates a large, flat load floor. ESC became available in 2005, but it may be difficult to find a Vibe that was built with the system.
Toyota Matrix, 2003 to 2008
Practical and reliable, the Matrix is a small wagon available with front-wheel drive or AWD. Cabin access is easy, the rear seat is roomy, and the cargo floor is big. Performance is modest from the 1.8-liter four-cylinder, which drones loudly under acceleration. Handling is fairly nimble, and the ride is compliant but a little jittery. Limited left foot room and a long reach to the steering wheel combine to hurt the driving position. ESC became optional in 2005, so try to look for one that was built with this important safety feature.
Midsized and Large Sedans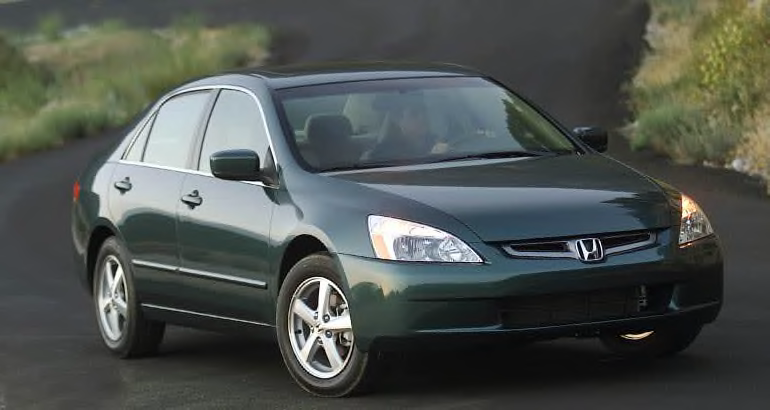 Honda Accord 2004 to 2007
The Accord is a roomy and reliable car. Most will have a four-cylinder engine that, together with the automatic, makes for a smooth, unobtrusive powertrain. High-end versions have a slick, powerful, and quiet V6. Handling is quite nimble, the ride is steady and controlled, and switches and gauges are intuitive. If you can, focus on a 2005 or newer model because those came with standard curtain airbags that provide more protection. 2006 and later models with the V6 come with standard stability control, making them particularly desirable.
The Avalon is essentially a stretched Camry with more upscale features. High points include a silky-smooth powertrain, Lexus-like road isolation, and impressive fit and finish. Rear-seat room is generous, it's easy to get in and out of the cabin, and visibility is aided by huge windows. Ride quality is smooth, though handling is considerably less than athletic. Touring models handle better. ESC became optional in 2005, so try to buy an Avalon that was built with the system.
Toyota Camry 2005 to 2006
The Camry is a roomy, easy-to-drive car with a smooth powertrain, comfortable ride, and quiet interior. Most versions have a four-cylinder engine, which is quite sufficient. High-end samples come with a V6 engine, which is slick and powerful but sacrifices some fuel economy. Look for examples with the optional curtain airbags. Without them, this generation of the Camry received a Poor rating in the IIHS side-crash test. In 2005, Toyota made ESC optional on higher-trim models.
SUVs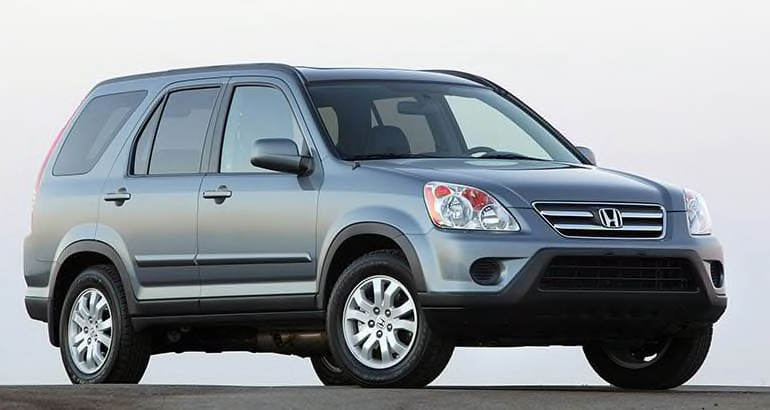 The CR-V of this vintage is extremely versatile; has a smooth engine, good fuel economy, and good visibility; and is very reliable if cared for properly. Handling is sound but not agile, though the ride is comfortable. Our main gripe is the pronounced road noise. Rear-seat room is generous, and the cargo area is square and commodious. The rear hatch opens to the side, which is a bit awkward. ESC and curtain airbags were introduced starting with the 2005 model year.
The Pilot combines the best virtues of a wagon, an SUV, and a minivan. Its slick V6 delivers punchy performance and respectable fuel economy, the ride is comfortable, and handling is secure. Road noise is pronounced, however. The standard split third-row seat folds neatly into the floor to create more cargo room, but there's little cargo room with the third row up. The interior is simple but well put together and offers lots of cubbies and bins. ESC was optional in 2005 and standard starting in 2006.
Avoid buying a RAV4 older than the 2004 model year because they lack electronic stability control.
Otherwise, the RAV4s of this vintage have nimble handling and compact dimensions that made them fun to drive and very maneuverable. Ride comfort and noise isolation were okay for the time but aren't a match for newer versions. A side swinging door makes loading and unloading rather cumbersome and doesn't provide shelter from rain. Rear-seat room and cargo volume are modest.