SAVE MONEY TIP! Stop paying for expensive repairs, from your old junkie, and empower yourself with great reliability.
Yes, there are amazing low-priced cars out there.
"Consumer Reports" have put together an amazing list of family cars, suv's, and hatchbacks.
The links below include reliability and owner satisfaction ratings.
Plus, most vehicles include a free Carfax report.
How to find these automobiles:
We recommend using Craigslist and Cargurus websites.
We also recommend finding autos with only 1 or 2 owners.
Happy searching!
Small Cars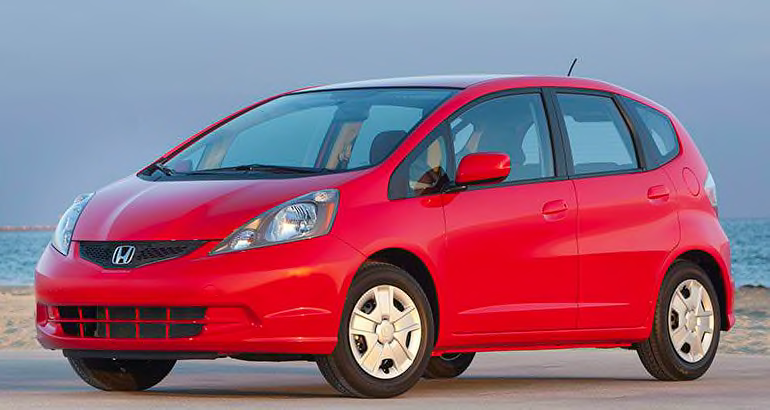 This generation of the Fit is incredibly versatile. The rear seats can be folded flat and low or flipped up against the backrest, creating a deep, flat floor that can accommodate bulky items. Though not overly powerful, the Fit feels responsive, with a smooth and willing engine and agile handling that make it fun to drive. Overall fuel economy is 30 mpg. The ride is choppy and the car is loud, so consider it more of an urban runabout than a long-distance commuter. Electronic stability control (ESC) became standard starting with the 2011 model year.
With its 2010 reboot, the Mazda3 remained one of our top-scoring small cars. As with its predecessors, this version is gifted with agile handling and a well-laid-out passenger compartment hosting quality materials. Still, though the interior is upgraded, the rear seating area remains a bit tight, and road noise is somewhat pronounced. For 2012, Mazda added a new 2.0-liter engine that boosted fuel economy to an impressive 32 mpg with the six-speed automatic transmission, and blind spot warning was optional. ESC is standard.
Nissan Leaf 2011-2013, 2015-2016
The five-seat Leaf hatchback has typical range of about 75-miles. In our 2011 tests, a full charge took 6 hours using a 240-volt power source or 16 hours using 120 volts. Since our test, charge times have been shortened through updates to the car. At low speeds the extraordinarily quiet Leaf feels quick and rides comfortably. Cabin access is easy, and the rear seat is fairly roomy. We measured 3.16 miles per kWh, the equivalent of 106 mpg. Running costs are extremely low: 3.5 cents per mile at the national average of 11 cents per kWh. Standard features include a heated steering wheel and seats. Model year 2013 brought a faster onboard charger and a cheaper S version.
With its 2009 redesign, the Corolla grew a bit larger and acquired a significantly quieter and more economical 1.8-liter four-cylinder engine. Side curtain airbags became standard and provided much better crash protection than older Corolla models. Engines and transmissions operate smoothly, and the car gets a commendable 32 mpg. The ride is relatively comfortable, and handling is secure but uninspiring. Although the interior is humdrum, easy-to-use controls and a relatively roomy cabin give the Corolla an edge over other small sedans. Even the midtrim LE comes nicely equipped, and ESC is standard on all trims.
The Prius is ideal for anyone purely interested in low running costs and practicality. It gets 44 mpg overall and can drive at low speeds on electric power alone. The ride is firm but compliant enough, although road noise and engine drone are noticeable. Handling is secure, but the car is mundane to drive. Some controls are complicated, and the interior feels basic. The 2010 redesign preserved all of the Prius virtues while improving the driving position, making stability control standard, and adding a larger engine. Although acceleration and fuel economy remained the same, the car offers better crash protection and more available amenities.
The Prius C is an affordable smaller alternative for those who want a Prius hybrid for a little less money. But its harsh ride, noisy engine and cabin, and slow acceleration make it feel more like an econobox than a sophisticated hybrid. It gets very good city fuel economy (37 mpg), but its overall 43 mpg falls 1 mpg short of the larger Prius. The interior is full of cheap-looking materials, the driving position and rear seats are cramped, and there's not much cargo space. At least the C's tiny dimensions and easy parking make it a natural for urban driving.
This wagon version of the Prius offers a very roomy rear seat and a generous cargo area. The extra weight and bigger profile take a small toll on fuel economy, but the V still got an excellent 41 mpg overall in our tests. Despite lower gearing, the electric motor and engine have to work fairly hard, especially when the car is loaded. It drives similarly to the standard Prius, but handling isn't exactly agile. A chairlike seating position, low sills, and big windows combine to make the Prius V feel open and airy. The standard backup camera is a welcome feature.
The Beetle has a roomy cabin and drives decently but suffers from cost-cutting measures. While the ride is compliant, it's a bit unsettled. Handling is responsive but not sporty, and it becomes sloppy in demanding conditions. The standard five-cylinder engine is punchy but sounds gruff and unrefined. We got a less-than-stellar 26 mpg overall with the five-speed manual transmission. Turbocharged gas and diesel 2.0-liter engines are also available. Rear visibility is limited, and the long clutch pedal travel and wide center console compromise the driving position.
Midsized, Large & Luxury Sedans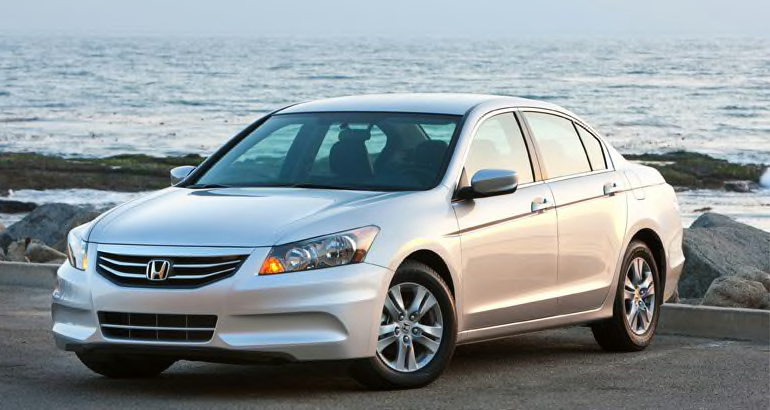 The well-rounded Accord as strong points that include a roomy cabin, an excellent driving position, and good visibility. Ride and handling are very good, and the four-cylinder engine is smooth, powerful, and economical. The V6 is smoother, quiet, and powerful, but it gets just 21 mpg overall. Road noise remains pronounced, and cabin features are sparse compared with many competitors. Controls remain a model of clarity, and driver visibility is generous. Look for an EX, which has a power driver's seat, sunroof, and alloy wheels. ESC is standard on all trims.
The Infiniti G is available in two versions: the G25 and the G37. A 2.5-liter V6 powers the G25 and delivers good acceleration, while the 3.7-liter V6 in the G37 is much quicker. But the V6 also has a bigger appetite for premium fuel, at 21 mpg overall vs. 24 for the G25. The seven-speed automatic transmission shifts smoothly. Both are agile and fun to drive, with well-finished and fairly quiet interiors. Definitely skewing toward the sporty side, ride quality is taut, composed, and comfortable enough, but not exactly luxurious. The cabin is nicely laid out but a little snug. The trunk is fairly small as well. Rear-wheel drive was standard, all-wheel drive was a popular upgrade.
The 2011 Camry is a practical and comfortable midsized sedan. The 2011 model year brought more modern connectivity, including Bluetooth phone pairing. Toyota also introduced a hybrid version that returned 34 mpg overall in our testing for the model year. The 3.5-liter V6 got 23 mpg overall vs. the 26 mpg our four-cylinder yielded with the six-speed automatic. The 2012 redesign brought improved interior quality, and a more modern touch-screen infotainment system was introduced with this generation of the car. The hybrid improved to an impressive 38 mpg in our tests. ESC is standard.
SUVs
The 2011 model CR-V is a great used-car choice because it's the final year of that generation. As such, the problems and headaches were already worked out by Honda, and the SUV has all the updates introduced over the model run. The CR-V has a roomy rear seat, easy access, a flexible interior, and improved handling, and it ranks among the best compact SUVs of its time. Rounded styling reduced cargo room and visibility, but the new tailgate is more user-friendly than the previous swing-out door. The smooth 2.4-liter four-cylinder provides strong acceleration and 21 mpg overall. Handling is responsive and fairly agile, with a steady and composed ride. ESC is standard. Our major complaint is that constant road noise makes the cabin loud, which becomes tiresome.