Conga, Bongó and Timbal
Tuesdays, 7-9pm, June 1st, 8th & 15th
$25/class; $70 for Series.
Update!
*** LatinBayArea Readers Discount ***
Use code "salsastars" for $10 off the series price at checkout
About:
Behind the artists and celebrities, you'll find the real stars of Salsa, the Afro-Cuban percussion section: Congas, Bongos and Timbales!
In this 3-week Zoom series of spicy classes, you will learn about the histories of these percussion instruments, how they shaped the salsa genre, and how they found their way into popular American music and genres around the world.
Students will also learn about the artists who made these instruments popular, the racial barriers they had to overcome to do so, and the recognition received for developing the techniques for how these instruments are played throughout the world today.
Instructor and Grammy-winning artist, Omar Ledezma, Jr, combines audio and video samples with lecture and live percussion demonstration to create an engaging virtual class environment.
The classes:
Week 1 (June 1st)
From rhythmic foundation to stardom – The Conga Drum: How an Afro-Cuban drum became the quintessential star of salsa music and a universal instrument. Artists: Chano Pozo, Tata Guines, Mongo Santamaria, Ray Barretto, Giovanni Hildalgo, Francisco Aguabella, Carol Steele and more.
Week 2 (June 8th)
So little but so important – The Bongos: How an instrument rooted in the traditional Cuban Son became popularized in the US. and around the world. Topics: Martin Cohen & LP (Latin Percussion Company) / Artists: Armando Peraza (Santana), Johnny "Dandy" Rodriguez, Jack Costanzo, and more.
Week 3 (June 15th)
From behind the symphony to Latin royalty – The Timbales: Linking European and Afro-Cuban music, the timbales got their start with the symphony and Cuban danzones, moving to the big sound of the mambo orchestras, and finally taking center stage with salsa. Artists: Tito Puente, Tito Rodriguez, Orestes Villato, Sheila E and more.
Teacher/Artist Bio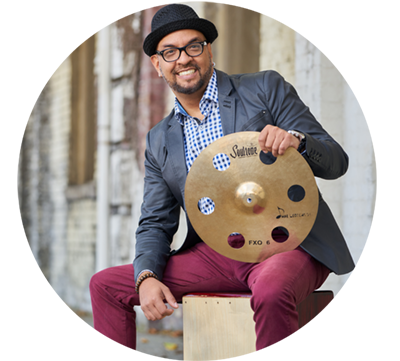 Born and raised in Caracas, Venezuela, Grammy-winning singer and percussionist Omar Ledezma Jr. has been playing professionally since the age of 17.
In 1995, Ledezma graduated from one of the most prestigious law schools in Caracas. But in 1998, Omar packed one bag and one drum and moved to Boston to study at Berklee College of Music. After graduating in 2005, he moved to the Bay Area, where he teaches and performs today. Omar has played, recorded and toured with local and international artists, and in 2014, he won a Grammy with the worldwide-acclaimed Pacific Mambo Orchestra.
Omar currently teaches private and group percussion classes at the San Francisco Community Music Center and an intergenerational drum class with the Mission Neighborhood Center. He is a music accompanist for the San Francisco Ballet's Dance in Schools and Communities (DISC) education program and in 2018, received his teaching certification for the Orff- Schulwerk approach to music and dance education. Omar is also the founder of the Ka-Hon Ensemble, a group dedicated to the cajon (wooden box percussion instrument), that was one of the biggest stars of the San Francisco Symphony's Adventures in Music program.
Omar Ledezma Jr. is an exclusive artist with Pearl Percussion, Pinchclip, ELH Cowbells, Kandu Cajons, Vater, Remo and Soultone Cymbals.