The Music of Rubén Blades with Omar Ledezma Jr.
Thursday, November 18th | 7:00 – 9:00pm
How to watch: Zoom.
About:
Singer, songwriter, social activist and Latin music icon, Rubén Blades has been recording and performing for over 60 years.
Instrumental in the New York salsa revolution in the 1970s, Ruben Blades has composed hundreds of songs, inspiring generations of listeners with his socially charged lyrics, colorful characters, and memorable melodies, which have earned him 9 Grammy and 9 Latin Grammy Awards.
In addition to his musical achievements, Ruben Blades is also an actor, lawyer, Harvard University alum, Panamanian presidential candidate and former Panamanian Tourism Minister.
In this special one-evening class, Bay Area, Grammy-winning percussionist, Omar Ledezma Jr, examines the life and music of Panamanian born Rubén Blades, emphasizing the impact of his upbringing and social history on his work, and his trajectory of becoming a renowned singer and songwriter.
Omar will analyze select songs focusing on rhythmic structure, lyricism and the significant social messages associated with Rubén Blades' work and will perform excerpts of some of Blades's most famous songs on vocal and percussion.
A One-Evening Music Course on Zoom:
This class is expanded from a successful conversation and listening session first presented at the Community Music Center of San Francisco.
Teacher/Artist Bio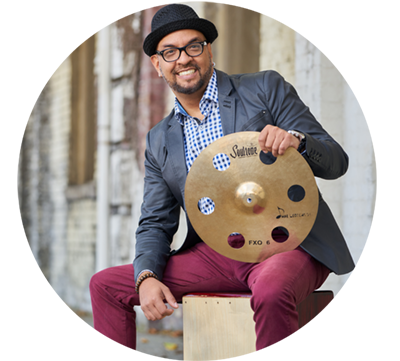 Born and raised in Caracas, Venezuela, Grammy-winning singer and percussionist Omar Ledezma Jr. has been playing professionally since the age of 17.
After graduating from one of the most prestigious law schools in Caracas, Omar packed one bag and one drum and moved to Boston to study at Berklee College of Music. After graduating, he moved to the Bay Area, where he teaches and performs today. Omar has played, recorded and toured with local and international artists, and in 2014, he won a Grammy with the worldwide-acclaimed Pacific Mambo Orchestra.
Omar Ledezma Jr. is an artist and collaborator with Pearl Percussion, Pinchclip, ELH Cowbells, Kandu Cajons, Vater, Remo and Soultone Cymbals.