CARIÑO @ The Chapel // SF
Fri, April 22, 2022, 8:30 PM PDT
Doors at 7:30 PM
Location
The Chapel
777 Valencia St
San Francisco, CA 94110.
Tickets Now On Sale On See Tickets – CLICK HERE$20 advance/ $25 day of show.
---
CARIÑO began as a concept in summer 2017 because María was feeling frustrated trying to make poetry, since she was unable to say "I love you" or "I want to marry you" without it seeming like a simple, silly poem.
She had always liked how simple and direct pop language was, and one day she said, "why not?" So she picked up a keyboard and began to write lyrics and melodies. Soon after that she got in touch with Paola, her friend and neighbor from across the street, who has a fantastic musical ear and could write the structures that María didn't have. Their original connection happened on Tinder, where they were introduced four years ago and where they met again in 2017, when love might not have triumphed, but cariño (affection in Spanish) did.  
Then they were only missing the bass. So they spent a few months chasing after Alicia (EL BUEN HIJO), who they had met at a pop party. One night, they grabbed her on La Palma street in Madrid after an EL BUEN HIJO concert, with their earphones in hand to show her the shabby recording of a super sad song they had written that very afternoon. She ended up singing the song, and joined CARIÑO in February 2018.   Our three ladies also were lucky enough to get in touch with Martín Spangle, a good friend, who has a studio in his home and helped them produce and arrange the songs.   LA CASA AZUL, LA BIEN QUERIDA, MUJERES, PERRO, JUNIPER MOON, PAPA TOPO, JOE CREPÚSCULO, LA PLATA, AUTOESCUELA, SIERRA, PEACHES, NANCY SINATRA, TRONCO… These are some of their admitted obsessions, all of this mixed in the CARIÑO cocktail results in a bubbly and explosive punk-pop with catchy melodies, touches of surf, and highly addictive lyrics.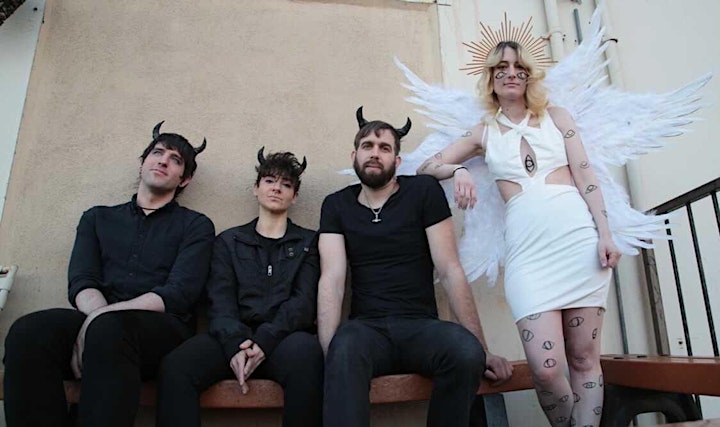 Formally known as The Y Axes Gloomy June is a California indie pop band made up of singer Alexi Rose Belchere (she/her), guitarist Devin Nelson (he/they), bassist Jack Sundquist (he/him), and drummer Ash Hyatt (they/them). Named for the cold fog that surrounds their hometown of San Francisco at the beginning of the Summer, Gloomy June is the soundtrack of a beach party tinged with melancholy. In an era where fear and uncertainty are our closest companions, Gloomy June is there to tell you uncertainty can be okay. Gloomy June songs are pop refracted through an anxious lens: sometimes anthemic, often queer, and always a little tragic. Written through late 2020 and early 2021, when the global pandemic made going to house parties and shows seem like a past life, their upcoming EP (title tba) explores social woes with a near-nostalgic tone. If you've ever felt "othered", or if the world has made you more anxious than you're used to, Gloomy June is for you. Website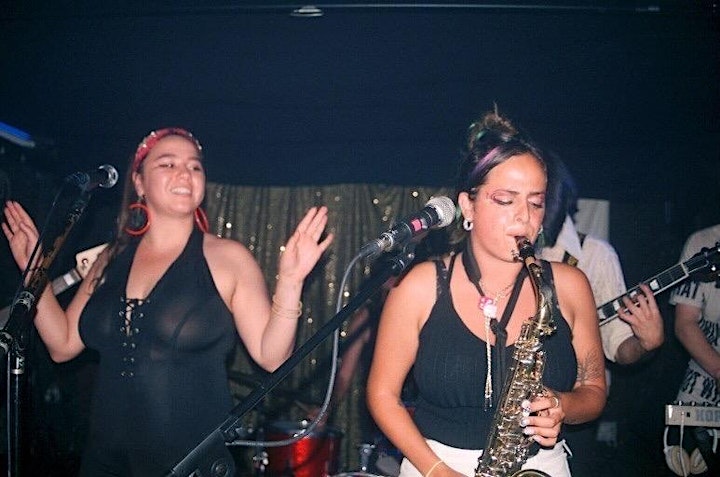 Mild Universe is a San Francisco based collective crafting dreamy dance music. Their debut self titled EP is full of genre-bending, energetic dance anthems with simple, repetitive lyrics that are an homage to 90's club music, with a disco-era instrumental feel. Mild Universe aims to unite communities through music and movement. . Instagram Bandcamp