Latin nights @ Molli Lounge // Concord
March 26, 2022 @ 10:00 pm
free
Este Sábado La fiesta continua en concord @ Molli Lounge
Mojito Party • Reggaeton & mas
ENTRADA GRATIS: http://molliguestlist.com
Reservación de mesas: Inbox or text (408) 507-6519
Sat, Mar 26, 2022, 10:00 PM –Sun, Mar 27, 2022, 2:00 AM PDT
Location: Molli Lounge
1935 Galindo Street, Concord, CA 94520.
Mojito Party • Reggaeton & más @ Molli Lounge
21 and over / Dress code enforced
Guest list close at 11pm at the door/ We highly recommend early arrive to avoid long lines.
Expect the usual: Great music, awesome people and lots of Fun
Molli Lounge have a unique design, hip environment, great sound system, VIP areas & VIP Bottle Service.
Saturday night at Molli Lounge is a party you'll never want to leave and your new destination in Concord every Saturday.
Bottle service reservation: (408) 507-6519
Saturday, March 26th • Doors open 10:00pm
Molli Lounge – 1935 Galindo St • Concord, CA 94520
Info: (408) 507-6519
– Molli Lounge : with Dj Santy & Dj MGD plus guest Djs playing the best of Old & new Reggaeton, Top 40, Latin pop, Salsa, Bachata , House, and more
Book in advance for FREE your BIRTHDAY or any other celebration at (408) 507-6519 and get a VIP tables, Champagne bottles, complementary drinks and guest list.
Don't miss out on the fun atmosphere and great music in our Sábado de Mojito at Molli Lounge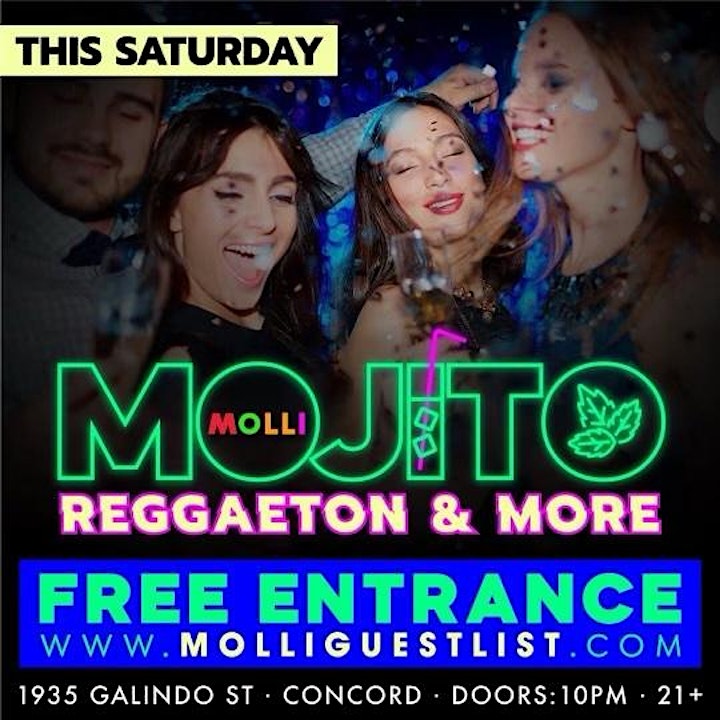 Related Events