We are so excited to bring you this webinar series starting with a Dia de Los Muertos Makeup Course with Mireya's makeup and Jocelyn Atzel Quintanilla Barrios.
When: Zoom on October 28th and 29th at 6pm.
Prices: $6.99 – $10.
Make sure to get your tickets here!
About:
In this DIA DE LOS MUERTOS ONLINE MAKEUP COURSE, you will learn how to create different techniques and glam looks inspired by Dia de Los Muertos , makeup look step by step with our amazing makeup artist Mireya (@mireyaamua) and Jocelyn (@B.Q.A.J.)
For this course, you do NOT need to have the knowledge, or have previously taken a self-makeup workshop.
This course is available for "remote" learning and will be available to anyone with access to an internet device with a microphone (this includes most models of computers, tablets). Classes will take place with a "Live" instructor at the date/times listed online.
** A List of the required materials for this class will be announced prior to scheduled course plus any additional information about how to log-on and participate in the class. **
Educators:
JOCEYLN | @b.q.a.j Course: $6.99
Date: October 28th
Time: 4:00 pm – 6:00 pm
Location: Zoom
MIREYA | @mireyaamua Course : $6.99
Date: October 29th
Time: 4:00 pm – 6:00 pm
Location: Zoom
Both Courses : $10
Online makeup course includes:
Glam looks inspired by Dia de Los Muertos
Skin prep
Color correction
Application of foundation
Contour
Highlighting
Blush application
Eyelash application
Makeup Techniques
Plus Tips & Tricks
Dia de Los Muertos Classes By: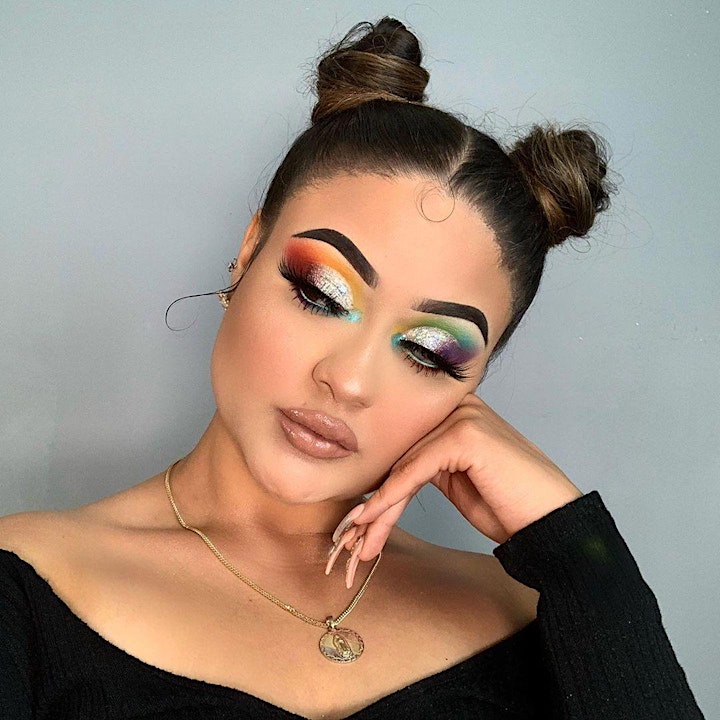 Mireya | @mireyaamua
Mireya has been a makeup artist for the last 15 years. Mireya will be sharing a glam Dia de Los Muertos look during her course.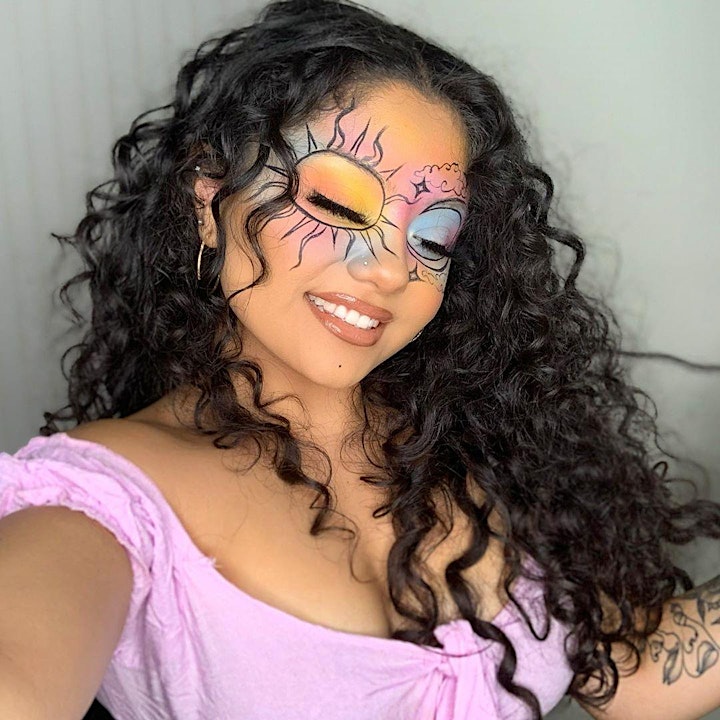 Jocelyn | @b.q.a.j
Jocelyn has been a makeup artist on instagram that loves to create glam and everyday looks.
Flyer: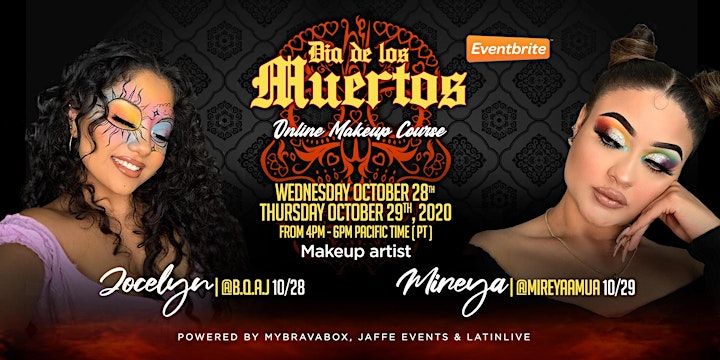 This event is powered by: MyBravaBox, Jaffe Events & LATINLIVE