Los Cenzontles celebrates the CD release of 'Alma Campirana'

The Freight and Salvage, Berkeley
Saturday, October 17, 2015, 8:00 pm
2020 Addison Street, Berkeley, CA 94704
Los Cenzontles (The Mockingbirds), one of the most important musical and cultural groups that promote Mexican roots music in the U.S., present a new acoustic album of traditional Mexican songs titled "Alma Campirana" (Country Soul).
Link: http://thefreight.org/los-cenzontles-0
About:
"Alma Campirana" marks the group's first entire album of traditional music, performed here entirely by their core quartet, since releasing albums in a variety of cross-cultural collaborators that include David Hidalgo (Los Lobos), Jackson Browne, Ry Cooder & Taj Mahal, among others. The group has released 23 CDs, 3 documentaries and hundreds of digital video shorts to date.
The upcoming album, to be released October 13, is a marvelous collection of rancheras and corridos that are part of the popular musical experience, not only among Mexicans, but in all Latin American countries that share the rich culture of Mexico.
Singing legend Linda Ronstadt says of the new album "…like abuela's meals, the songs of "Alma Campirana" are slow cooked, organic and healthy – way before we used those terms – nutritious and delicious."
Los Cenzontles' director Eugene Rodriguez explains, "We wanted to present the essence of these old songs using only voices and guitar." Singer, instrumentalist and dancer Lucina Rodriguez adds, "The life style that created this country music in Mexico is disappearing. Fabiola (Trujillo) and I grew up with these songs. We hope that this album reignites memories and introduces new generations to the beauty and power of our traditions."
CD Release Concerts- Berkeley and Los Angeles
Los Cenzontles will perform songs from the upcoming CD as well as those of other CDs on October 17 at the Freight & Salvage Coffeehouse en Berkeley (California) at 8 PM
More information on The Freight & Salvage website
Advance tickets at Ticketfly
The group will perform the following Saturday, October 24 6:00 PM at LA Plaza de Cultura y Artes in Los Angeles. Tickets are available at Eventbrite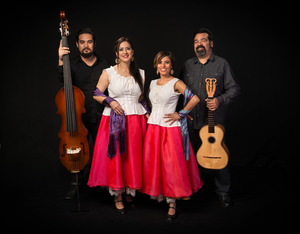 ABOUT LOS CENZONTLES
LOS CENZONTLES (THE MOCKINGBIRDS) MEXICAN ROOTS, CROSS CULTURAL, SONGS OF CONSCIENCE
Los Cenzontles is a group of musicians and dancers that digs deeply into their Mexican cultural roots to promote tradition, pride and cultural awareness. Through research, performance, media production and collaborations, the group has played a leading role in the roots revival in the US and Mexico since 1989.
Los Cenzontles perform rancheras, boleros and many varieties of Mexican son including those from the traditional mariachi of Jalisco, pirekuas of Indigenous Michoacan and son Jarocho of Veracruz. The group also composes new music in traditional and cross-cultural styles that promote socially conscious messages of cultural awareness.
Los Cenzontles core members teach new generations of tradition bearers at their award winning cultural academy. They have released 23 CDs, three full-length documentaries and hundreds of digital videos.
Based in Northern California, Los Cenzontles have injected a Mexican voice into the global roots dialogue by collaborating with musicians of diverse world roots cultures that include: Los Lobos; Taj Mahal; Ry Cooder; Jackson Browne; Linda Ronstadt; The Chieftains; Julian González Saldaña (Jalisco, Mexico); Atilano López Patricio (Michoacan, Mexico); Andrés Vega Delfin (Veracruz, Mexico); Lazaro Ros (Cuba); Gregorio Hernandez Rios "El Goyo".