Born and raised in the heart of Los Angeles, Natalia has always been around incredibly creative and innovative people. Her 10+ year background in Theatre has only increased her passion and curiosity to delve deep into truthful storytelling.
Whether she's on or off stage, she commands the room with her infectious charm and giving spirit. Memorable roles include Felicia (Dreaming in Cuban), Mercutio (Romeo and Juliet), Blondie (Zoot Suit), Camila (In the Heights), and many more. She has also been featured in various Staged Readings and Original Works through several Theaters in the surrounding Bay Area such as Shotgun Players, A.C.T, Monday Night Playground, Awesome Theater, and now, Cutting Ball. When she is not acting on stage, you can find Natalia teaching 2nd Grade English or involved in other artistic projects. IG:artistanatalia
FROM THE PLAYWRIGHT: W. FRAN ASTORGA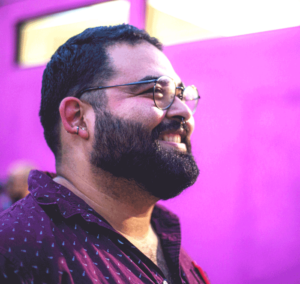 EXHAUSTION ARROYO: Dancin' Trees in the Ravine encapsulates distinct realities I experienced from early-2020 through mid-2021. This epoch feels weird and jarring to be nostalgic about in mid-2022, but that is where I am – in mourning for the hope that once was and celebrating amorous self-fullment. ¡Yes! This is a pandemic show. . . though it isn't mentioned. This play takes place in the early pandemic days when the world was still on standby to return to the normalcy of the "before times," right as we began realizing that it might be more than a few weeks of quarantining and that the "normalcy" of the before times might not be something everyone wanted to return to.
For me, the normalcy of pre-pandemic was exhausting. Before "the Movement," conversations around equity had to be navigated through an industry-standard, impenetrable wall of white fragility….READ ON