Yair Rodriguez Looks to Become UFC's First Superstar from Mexico!
On Sunday afternoon, Rodriguez gets his chance when he faces BJ Penn in a featherweight bout in the MAIN event of UFC Fight Night 103 in Phoenix.
As a child growing up in Parral, Mexico, Yair Rodriguez watched MMA videos with his brother and cousin.
When Rodriguez was 17, he and his mother were walking in Parral's downtown and noticed an MMA gym had opened. Soon, Rodriguez was spending hours each day there, working out and learning about the techniques his idols had used.
Now, seven years later, Rodriguez has emerged as one of the UFC's most promising prospects. Since turning professional four days after his 19th birthday, Rodriguez has gone 9-1. His only defeat occurred in December 2012 during an MMA event in Mexico where he lost to Luis Roberto Herrera by knockout in the first round.
In 2014, he joined the UFC after winning the featherweight division of The Ultimate Fighter: Latin America.
Since then, Rodriguez has proved he's a legitimate fighter and caught the attention of fans, fellow competitors and UFC executives. With a 5-0 record in the UFC, a clean-cut image and multicultural appeal, he's viewed as someone who could eventually headline pay-per-views and become one of the sport's biggest draws.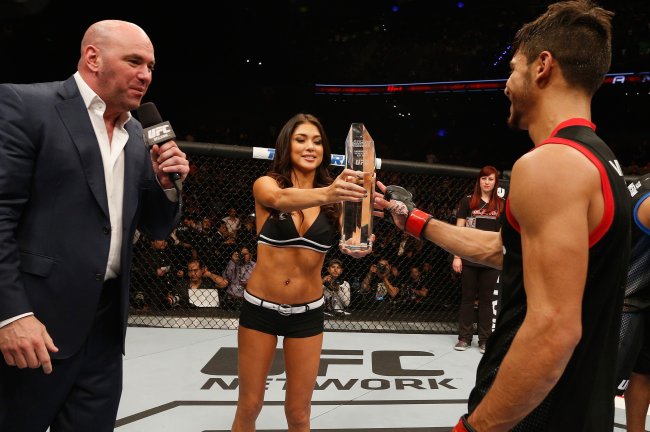 On Sunday night, Rodriguez gets his chance when he faces BJ Penn in a featherweight bout in the main event of UFC Fight Night 103 in Phoenix.
Penn, known as The Prodigy, hasn't fought since July 2014, hasn't won since 2010 and has lost his last three fights.
Still, Rodriguez said he isn't overlooking Penn, 38, a UFC Hall of Famer who made his professional MMA debut when Rodriguez was nine. Penn is one of only three fighters to win UFC titles in two divisions. Rodriguez hopes to someday accomplish what Penn has achieved during his career. More than that, he wants to surpass Penn in becoming a global ambassador.
In 2013, Rodriguez attended tryouts that the UFC held at the Renzo Gracie Academy in Mexico City, around 800 miles from his hometown. The UFC at the time had some successful Mexican-American performers such as heavyweight champion Cain Velasquez and lightweight contender Tony Ferguson, but it had a dearth of fighters from Mexico.
"It was very important for us to have a born and raised Mexican be successful," said Joe Carr, UFC's head of international operations.
The initiative was part of the organization's focus on scouting for talent in the region and expanding beyond its traditional hotbeds. UFC matchmaker Sean Shelby showed up and watched more than 100 fighters compete for a spot in a Latin America development program, which veteran MMA trainers Greg Jackson and Mike Winkeljohn would run in Albuquerque, New Mexico.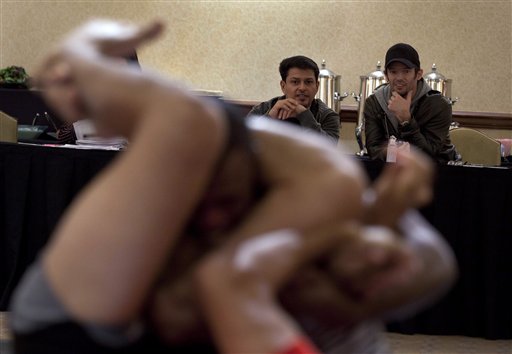 "I used to think that to get into UFC was a dream, just a dream that would never come true," Rodriguez said.
"My father told me, 'Nothing is impossible, and you can do whatever you want. You just have to work hard,' and stuff like that. I keep working hard until I have that opportunity. Since then, I've been holding to that chat. I don't want to let it go."
After impressing the UFC brass, Rodriguez was among about a dozen fighters who were asked to participate in the program. For the next year, he mostly worked with trainer Mike Valle, who grew up in Matamoros, Mexico, on the Texas/Mexico border and speaks fluent Spanish.
Valle was into muay thai as a kid and then learned kickboxing and MMA. In the mid-2000s, he began training current UFC bantamweight Erik "Goyito" Perez. Valle attended a seminar that Jackson gave in Mexico, and he and Perez later decided to move to New Mexico, where they worked with Jackson and others in his gym. Valle also helped train former female MMA star Gina Carano, whom he knew through kickboxing.
Video:
Valle saw early on that Rodriguez had the most promise and talent of any of the Latin American fighters.
Rodriguez just needed to believe he belonged with veterans who also trained in Jackson and Winkeljohn's famous gym.
"Sometimes he would spar Cowboy [veteran UFC fighter Donald Cerrone] or he would spar somebody and say, 'Oh, man, they let me, they let me hit them,'" Valle said. "I was like, 'No, dude. They're not letting you hit them. You are hitting them.' It was just a process for him to start believing in himself, to start noticing, 'Hey, man, I'm that good.'"
When Rodriguez was cast in the first season of The Ultimate Fighter: Latin America, he had already trained with Valle for a year and gained confidence. During the series, Rodriguez was part of a team that Velasquez coached.
Rodriguez won his first two fights of the competition via submission and TKO to advance to the final, which took place at UFC 180 in November 2014. That night, Rodriguez defeated Leonardo Morales via unanimous decision. Afterward, he shook hands with UFC President Dana White, who presented him with a trophy for the victory. He then gave an interview to announcer Joe Rogan in Spanish, telling the crowd he appreciated them coming and that he hadn't fought his best.
Around the same time, Rodriguez moved to the suburbs of Chicago, where he began working full time with Valle and Israel Martinez, the head wrestling coach at the Jackson-Winkeljohn gym. Martinez has trained Jon Jones, Holly Holm and a host of other UFC stars.
In 2015, Rodriguez won two fights, both via decision.
Last April, he faced Andre Fili on the main card of UFC 197. During the second round, Rodriguez unleashed a flying kick to the head that knocked Fili out and caught the attention of MMA diehards. Rodriguez shared Performance of the Night honors with flyweight champion Demetrious Johnson and won a $50,000 bonus.