[free] Latin Heritage Festival @ Four Fools Winery // Rodeo
🎉 Join Us at the Latin Heritage Festival! 🎉 September 23, 2023 • 12-5pm
Four Fools Winery 13 Pacific Ave. Rodeo, Ca. 94572
Celebrate Latin culture at this FREE public event!
Indulge in mouthwatering food, scrumptious desserts, and refreshing sparkly beverages.
Enjoy live music while discovering unique artisanal crafts from small business vendors. Authentic wares straight from Mexico await you!
The Four Fools Winery overlooks the beautiful San Pablo Bay, this festival offers the perfect setting to enjoy the delightful Bay Area breeze while spending quality time with your loved ones.
Don't miss out on this incredible community event! Make memories to last a lifetime, surrounded by the company of family and friends.
Parking & Admission are free.
•
13 Pacific Ave. Rodeo, Ca
•
September 23, 2023 • 12-5pm
•
Live Music Performance 2-4pm
Click the link here for more details and to secure your FREE ticket:
Join us for the Latin Heritage Market 2nd Annual Celebration, where the magic of Latin culture meets the beauty of the bay's cutest winery! FREE all-day admission! Experience the vibrancy of Latin heritage with a social event like no other. Indulge in mouthwatering food, delectable desserts, and sip on exquisite wine (21+) while immersing yourself in an atmosphere brimming with Latin flavor. Discover treasures galore We've brought together over 40 vendors, each offering their own special and unique wares. From handmade crafts to authentic cultural artifacts, you'll find something truly captivating. Prepare to be dazzled. Witness the grace and beauty of Folklorico dancers as they bring the traditions of Latin America to life. Be serenaded by a remarkable live concert, captivating your soul with enchanting melodies. Don't miss out on this extraordinary celebration of Latin heritage! Mark your calendars now and invite your friends, family, and loved ones to join us for an unforgettable experience. Claim your free admission today! Just click the link to reserve your spot at the Latin Heritage Market 2nd Annual Celebration. Like, share, and spread the latin love! The Four Fools Winery is the perfect location for this celebration, with its stunning waterfront view and cozy atmosphere. You can enjoy a glass of wine, relax, and soak in the festive atmosphere while you shop and mingle with fellow attendees. So mark your calendar for the Latin Heritage Festival at Four Fools Winery, and get ready for a day of fun, culture, and community. We hope to see you there! Admission is free as well as free guest parking at the marina.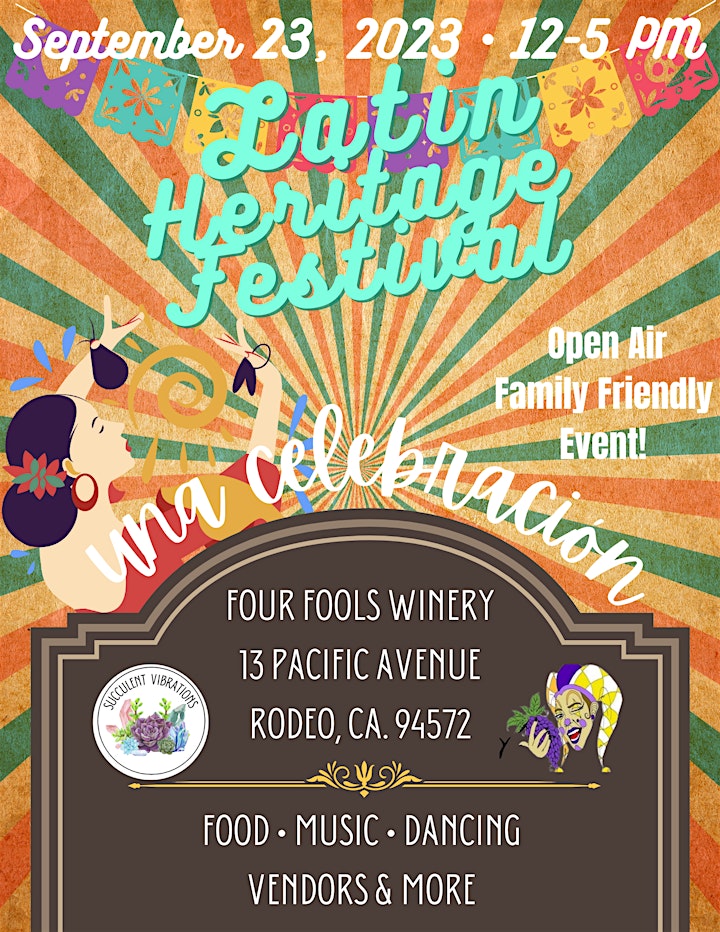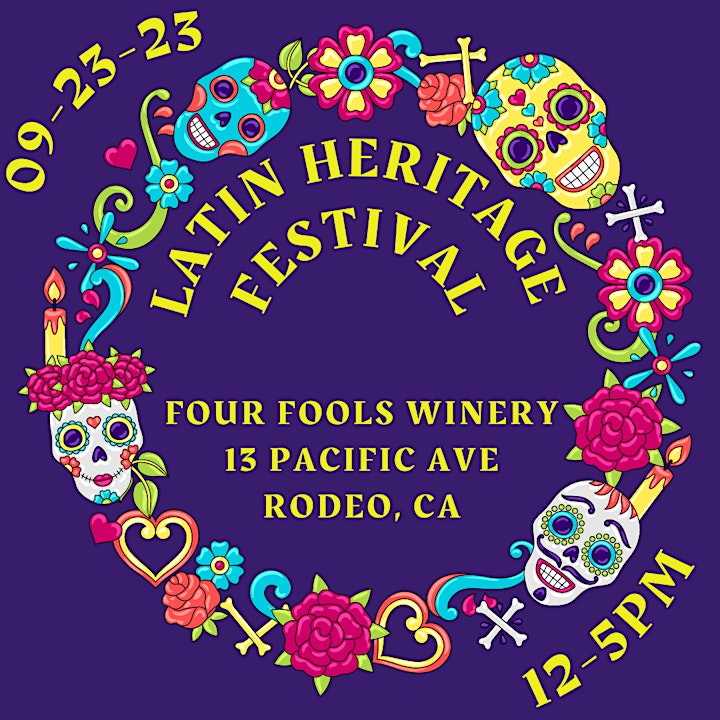 Tags